Skip to Content
Pediatric Medical Day Care for Houston, TX Children
Joycare is a pediatric medical day care in Houston, TX for children with special medical or technological needs aged newborn to 20 years old. We care for these children and provide them with additional therapy while providing some time for their primary caregivers to focus on other tasks that may need to get accomplished during the day. We have a wide range of medical professionals on staff to offer essential health centered services. Experienced healthcare professionals such as Registered Nurses (RNs), Licensed Vocational Nurses (LVNs), Physical Therapists (PTs), Speech Language Pathologists (SLPs) and Occupational Therapists (OTs) are here to attend to your child's special needs.
We also offer parent education for those with children enrolled at Joycare Pediatric Day Health Center. These classes teach you and your child how to work together to accomplish bigger goals as a team and as a family. Please check with our team about current parent education courses!
Conditions Served at Joycare Pediatric Day Health Center
Joycare Pediatric Day Health Center covers medically and technology dependent children who receive a prescription from their physician for skilled nursing services. For Example, autism, down syndrome and other similar special needs do not qualify for coverage under a PPECC alone. "Medically or technologically dependent" means a child who due to an acute, chronic, or intermittent medically complex or fragile condition or disability requires physician prescribed, ongoing, technology-based skilled nursing care to avert death or further disability, or the routine use of a medical device to compensate for a deficit in a life-sustaining body function. Common conditions of children who qualify for PPECC services include:
Respiratory Diseases / Disorders
Gastrointestinal Disorders
IV Therapies
Transplant Patients
Gastrostomies
Neurological Disorders
Chromosomal Abnormalities
Cardiac Anomalies
Endocrine Diseases / Disorders
Quadriplegic / Paraplegic
Arthrogryposis Multiplex Congenita
Pierre Robin Sequencing
Mitochondrial Disease
Cystic Fibrosis
Cerebral Palsy
Palliative Care
Specialized Treatments and Therapy for Houston, TX Kids
At Joycare, we understand there is a wide range of physician-prescribed clinical treatments your child may need. The training and expertise of our staff allow them to deliver certain treatments and specialized therapy services, such as:
Apnea Monitoring
Oxygen Administration
Tube Feeding
Tracheotomy Care
Airway Management
Transportation
Infusion Therapy
Nutrition Counseling
Medication Management / Titration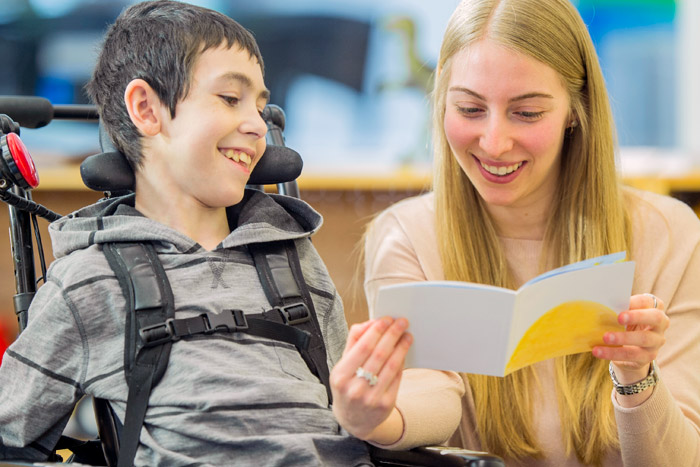 Is Your Child Covered by Insurance for Joycare's Services?
More than likely, yes! Medicaid, Medicaid HMOs (Health Maintenance Organization), the CMS (Children's Medical Services) Network, and some private/commercial insurances cover all Prescribed Pediatric Extended Care Centers (PPECCs). The patient access team at Joycare Pediatric Day Health Center would be happy to help walk you through our admissions process and answer any questions you may have regarding insurance coverage for our pediatric medical day care services in the Houston area.
Where skilled nursing and day care meet